Netcall VOIP Systems are reliable communication solutions tailored to meet your exact requirements at home and at the office. At Netcall we aim to provide you with professional guidance to design a solution that you can trust. We understand that every business or home has specific needs that need to be considered and addressed. Our dedicated team is there to help you through the process. With Netcall you can have peace of mind, knowing that we operate with full transparency and high ethics. Have a look at our exciting products below and contact us to discuss viable options for your business. 
The SIP-T43U IP phone is a feature-rich business tool for excellent communications and extended functionality. It is a 12-line IP phone that comes with a 3.7-inch large black-and-white screen and the EXP43 support. United Yealink Optima HD Voice technology and wideband codec of Opus, the T43U awards you the superb audio quality and crystal-clear voice communications.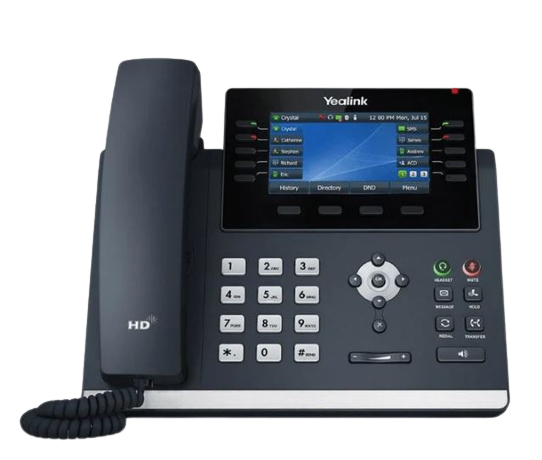 Designed for busy executives and professional, the SIP-T46U IP phone is an ultimate communication tool that has the better overall performance. The phone employs an appealing high-resolution TFT colour display that looks brighter and more vibrant. United Yealink Optima HD Voice technology and wideband codec of Opus, the T46U awards you the superb audio quality and crystal-clear voice communications.
Yealink presents a dynamic business communication solution to executives and professionals with the new SIP-T48U IP phone. The phone employs an appealing large touch screen that makes the switch between pages and applications swift, easy and convenient. United Yealink Optima HD Voice technology and wideband codec of Opus, the T48U awards you the superb audio quality and crystal-clear voice communications.
It is time to optimize your conference room with Yealink modern conference phone – the Yealink Touch-sensitive HD IP Conference Phone CP920. With user-centric design philosophy, this new release from Yealink combines simplicity of use with sophistication of features, being perfect for small to medium conference room. In regard of its crystal-clear audio quality, your conversation will sound natural and bright anywhere with well-designed CP920. .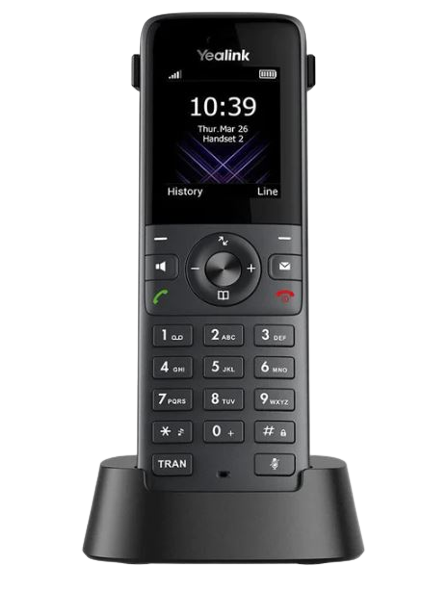 The Yealink W73H is the new-generation of stylish modern wireless handset designed for business use with a new ID design, which is more sleek, convenient to carry, and has better battery life and communication quality. Combining the benefits of wireless communication with rich business features of Voice-over-IP telephony, it empowers users with convenient wireless communication, excellent speech quality, and encrypted call information by the reliable DECT encryption technology.
Its graphical color display will provide you with a comfortable and joyful user experience for the all-day work. The W73H is perfectly compatible with Yealink W70B. The W73P system can support 10 handsets, 10 SIP accounts, and 20 simultaneous calls (2 calls per handset). The W73H will be perfectly compatible with the W90 multi-cell system, providing you with more options for your office expansion.
The Yealink W73P, being a high-performance SIP cordless phone system, which can register 10 Yealink DECT W73H handsets, is the ideal solution for small and medium-sized businesses. It allows you to enjoy superb mobility and efficient flexibility immediately as well as significantly eliminates additional wiring troubles and charges. Featuring more functions, lines and mobility, it supports up to 10 SIP accounts and 20 simultaneous calls, improving signal strength and responsiveness to provide a stable and good experience for your mobile communications. You can enjoy clearer, high-quality voice calls because of the new Noise Cancellation technology. 
Yealink W57R, certified to rigorous IP54 standard, is a professional ruggedized DECT handset with an integrated vibration alarm that is pretty eligible for the environment where there may be dusty, humid, and harsh. W57R combines the advantages of wireless communication and the rich features of Voice-over-IP phone, and is fully compatible with Yealink W80/W90 Multi-Cell System for seamless roaming and handover feature. It provides you with the convenience and good experience of mobile communication in and between each zone and keeps stable in complicated and harsh locations.
W57R cushions the occasional fall and can easily withstand falls of up to 3.5 meters. This makes the W57R the perfect companion in the office, in a warehouse or on outdoor premises. As a rugged and durable handset, W57R has also been developed with Yealink optimal HD audio quality that combines multiple leading technologies together, including FNR (Flexible Noise Reduction), full duplex, and Opus. 
Seamless handover and roaming
Up to 100 parallel calls
Up to 30 base stations
Up to 100 handsets
Up to 100 SIP accounts
Support XML/LDAP/Remote Phonebook
Support Xsi Directory
DECT radio coverage up to 50m indoors and 300m outdoors
DECT technology: Yealink DECT technology is based on CAT-iq2.0, which focuses on high quality Audio VoIP (wideband), as well as low bit – rate data applications.
Yeastar P-Series PBS System
For businesses that have higher expectations of a sophisticated communication system, they need a professional, reliable, and adaptable PBX system in place. Lack of efficiency-enhancing features, poor user experience, and inability to adapt to the fast-paced business environment make a communication system less desirable.
Yeastar addresses the challenges through the P-Series PBX System, a "PBX Plus More" product that allows businesses to have uninterrupted communications at all times in a fully-fledged system. Beyond just a PBX, it provides visualized call management, video communications, advanced call centre features, unified communications applications, anywhere anytime connectivity, and everything practical yet outperforming across browsers, mobiles, and desktops.